Desperately seeking information pertaining to the murder of my daughter, Laura Gossmann, on December 22, 1991, which will lead to the arrest and conviction of the person(s) who are responsible for this crime
The above is a picture of my daughter, victim of a homicide in the 108th Precinct, which occurred on December 22, 1991 in a vacant lot adjacent to the Brooklyn, Queens Expy. and South of 34th Ave in Woodside, Queens, New York between the hours of 9:00 AM and 2:00 PM.

Laura was 23 years of age, her height was 5'9" and weighed between 130-135 lbs. with short brown hair and brown eyes.


If anyone has any information regarding this crime please e-mail me by clicking below or you can call the 108th Detective Squad at 718-784-5441/5442. All information will be kept confidential. There is a REWARD waiting for the person(s) who brings forth information that will lead to an arrest and conviction of the person(s) involved in this crime.
Best viewed in MSIE. Please be patient for the wave sound to download. It is a song recorded by a friend of Laura's, Mary Henn. If you read this page Mary, thank you so much for this lovely song, I only regret I could not get in touch with you to tell you personally.

Click here to contact me
Below are some pictures of Laura
with descriptions of what she was wearing and how she looked that morning
Laura was wearing this bright multi-colored ski jacket (as shown above)
and dark blue sweat pants marked "Warren Wilson College".
This picture gives an idea of how Laura had worn her hair.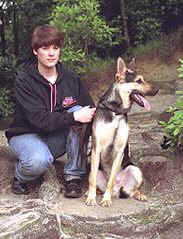 Laura with her pal Fauve (means deer in French).
Laura had left that morning to walk Fauve but it is believed
she brought him home and left again to go to the store for milk.
Laura went to Warren Wilson College in Ashville, North Carolina and has friends still living there. If anyone reads this page and you may have some information, no matter how trivial it may seem to you, please let me know.

We are trying to do everything we can to resolve this crime and need your help. We need to solve this crime for Laura, we need and want Justice for Laura. This is all that we can do for her. I will never be able to give up until we have answers and her murderer is brought to justice. Only then will I feel my daughter will rest in peace.

As I had previously noted, Laura had left to buy milk that morning. It is believed that she went to a bodega on Broadway and 64th St. When the police found Laura there was a crushed carton of milk lying next to her and it was traced back to this bodega. She did not have her dog with her at that time but was walking him earlier. If anyone has any information on what might have happened when she left that bodega or you think you might have seen her please come forward. Maybe you saw her earlier when she was walking her dog.

There is also a picture (taken from a surveillance camera installed on a building) which showed two figures walking east on 39th Ave and 63rd St. The frame on the picture is not clear and no identification can as yet be made, but the police feel very strongly that it could be Laura with the person who might have murdered her. The quality of the picture is not clear but the tape is being kept for future enhancement as new technologies develop. Maybe somebody saw Laura with this person and could help with an identification. The spot where the picture was taken is less then a block away from where her body was found. She could have met somebody either in or outside the bodega and walked with this person towards the area of 39th Ave. where she was later found.

Perhaps she was walking over to this new poolroom that just opened, or, maybe, this person lured her there intentionally. We just don't know. But one thing the police and I feel strongly about, is that there is someone out there who does know!!!

If there is anyone out there who might have any information, please do not be afraid to e-mail me or call the police at the 108th Precinct. Please, if you can, help me and the police to resolve this crime.
Picture of site where my daughter was found strangled to death. It is right off the Brooklyn-Queens Expressway.
A horrible scum infested area. Laura would never go there alone unless she had a very good reason or was forced to.
A close up of same picture. In the back you can see a wreath of flowers placed there after Laura's funeral.
Another shot of the area, this time from the street (37th Avenue) looking up. Laura was found in the
embankment above between the BQE Expressway and Conrail RR Tracks. Why she was up there remains
a mystery to this day. She would not even walk her dog in that area because of the druggies that hang out there and the filth.
I have received a lot of responses from people and I would like to take this opportunity to thank all of you for your support and prayers. Some of you suggested I add some more information to my page. Unfortunately, there is not much more to tell. Bottom line, my daughter left to buy milk around 9:00-9:15 Sunday morning after she walked her dog. She was never seen alive again. She was found strangled to death. There are no apparent motives. She was not robbed or molested. She did buy milk and that was found next to her body, trampled. The milk carton was traced back to that bodega on 64th St. and Broadway. However, when questioned, the owners denied seeing her that morning. This I find hard to believe, since that store is not exactly swarming with customers at that time of day on a Sunday morning. I am not saying that they were involved directly in any wrongdoing, but I feel they could know more then they are letting on. Possibly because they do not want any trouble with the police for reasons of their own.

Her pocket was turned inside out but it is not known if that was done by the killer looking for money; or by inexperienced cops who first arrived at the scene. It is believed that the initial investigation was done carelessly as the cops erroneously thought that my daughter was a druggie who overdosed. It was not until closer investigation that they realized this was a homicide and my daughter was not a drug addict. I probably will never know the true answers to what really happened with the investigation that morning. My question is, "what happened to my neighbor who lived a couple of houses down from me? At one point, around mid-morning, I saw him arrive home, drunk or stoned, and he glared at me in a strange way?" Laura and I had words with him in the past. Could he have had a vendetta against my daughter? Where was he coming from at that time of morning. My suspicions are that he hung out up by that bodega. Why was he never thoroughly questioned by the police? By the time the police were ready to question him, he was already in jail for another crime and his lawyer would not allow the cops to interrogate him. That was 5 years ago, and as far as I know he was never questioned about his whereabouts that morning. I know Laura spoke to his wife on a couple of occasions. They did not know each other but they did speak briefly. I know this because Laura has remarked that she was a very sweet lady. Could Laura have, unwarily, said something to this woman about her husband's behavior in the past? Could this have caused trouble between her and her husband? Maybe vengeance was the motive that day? Or, maybe it was someone in a uniform that Laura felt safe with and walked with that person willingly under false pretenses? Maybe it was a stalker who secretly admired her and made a pass and became angered when she refused; since the police feel that Laura's murderer could have been someone she knew and/or trusted, or a person who could have had feelings for her. I am not at liberty to say, but there was evidence leaning toward this theory at the scene. Some of you may wonder why I cannot reveal all that I know. The reason being, that there is still an on-going investigation and I do not want to do anything to undermine this investigation.

I also questioned what happened at the coroner's. There was (so I was told) hair found on Laura's jacket but it is not known whether it was Laura's hair or even her dog's hair (or maybe the killer's hair?) Why was this not investigated, at least through process of elimination i.e., rule out the dog's hair if it was not his, etc.

Do I feel that, even though there may be a lot of questions that remain unanswered, there will be a resolution one day? The answer to that is "yes", I believe very strongly that this crime will be resolved. I do not believe that there is such a thing as the perfect crime, and I have faith that time will prove this to be true. I do not believe that the person who did this to my daughter kept it to himself. Somewhere, somehow he/she must have either confided in someone or inadvertently revealed his guilt. I believe that one day that person will do the right thing and come forward with any information that they have. I will continue to pray for that day to come soon.

I firmly believe that it is best for this killer to come forward now, in this lifetime, and pay his penance, here on earth, while he can, because there is no such thing as parole in Hell.
Memories Of Laura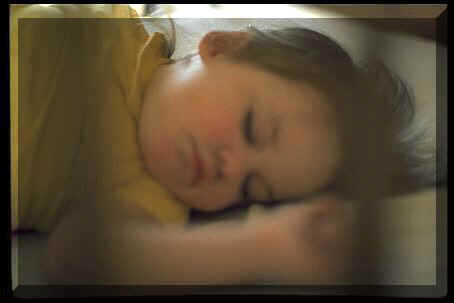 I ONCE HAD A GIFT GOD HAD GIVEN TO ME
A SWEET BABY GIRL WE NAMED LAURA LEE
A PRECIOUS CHERUB
GOD GAVE ME TO KEEP
BUT NOW TIME FOR REST
SLEEP BABY SLEEP
INTO A BEAUTIFUL YOUNG GIRL YOU GREW
HOW PROUD I WAS TO BE THE MOTHER OF YOU
PICTURE OF LAURA AND ME AT XMAS TIME.
LITTLE DID I KNOW HOW FEW WE HAD LEFT...
THIS IS ONE OF THE LAST PICTURES I PHOTOGRAPHED OF LAURA.
I TOOK IT SHORTLY AFTER SHE RETURNED HOME FROM THE BAHAMAS.
SHE WENT THERE WITH HER CLASS TO BUILD CONCH
FARMS FOR THE LOCAL RESIDENTS.
SLEEP BABY SLEEP
ONE LAST TIME TO REST
YOU ARE NOW GOD'S TO KEEP
Below are copies of an article which appeared in "Redbook Magazine". If you are interested in reading this article you can click on the picture to increase the size.
MESSAGE TO A KILLER
You know who you are and you know what you have done...
My question to you is...........
Are you PROUD????
Thank you for taking the time to read this page. If you feel you want to put a link from your page to mine, please feel free to do so, the more this page is spread around the better and any help would be appreciated. If you are in a similar situation and have a page please let me know if you want me to put a link from my page as I would also like to help anyone who needs it. Thank you all.



Below are links to other pages involving unsolved crimes. Please read and help these families if you can.
Active Most Wanted and Criminal Investigations
Beautiful and touching tributes to lost loved ones.
Shane's Page
MEMORIAL PAGE
Another website that wants to help bring criminals to justice. Go to these pages for more information
NATIONAL CRIME INFORMATION EXCHANGE
If you think you might know anything please respond here or call the NYPD 718 784 5441